Design your space with an HGTV-Level upgrade!
Pool Decks, Patios and Driveways: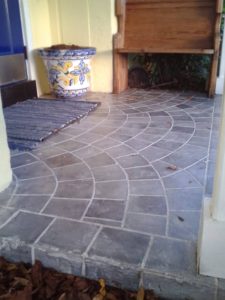 As Experienced Resurfacing Specialists, we can offer you state of the art materials laid by some of the best concrete artisans in the industry. With our process, we can repair existing, damaged concrete, making it look brand new…or work with your builders and contractors in the new build schedule.
We can make your concrete look like wood, limestone, brick, slate or whatever you like. Since all our installations are crafted on site, we don't have to fit into a box…we have the freedom to design the space of your dreams according to your unique style. Call us for a free design consultation and quote!
Water and Fire Features or Pool Grottos and Slides:
We can incorporate stunning water and fire features to your outdoor space that give you just the bit of luxe that you're looking for.
The sky is the limit when you're carving concrete, so when you're looking to make a BIG impression, call on our Concrete Artisans to design and create you the best backyard on the block.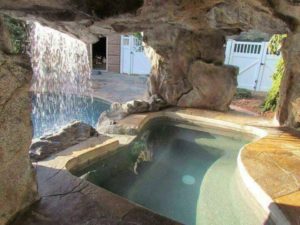 Seat Walls and Counter Tops:
Adding functional accents to your design can set your installation apart from the norm, create subtle traffic direction, and tailor your space to your unique needs.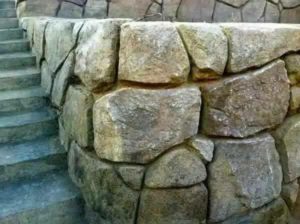 Protecting Your Surfaces:
You need cleaning and waterproofing of your existing natural materials to lengthen the life of your installations, even if it's not concrete. With our ten years experience in the surfacing industry, we've seen stuff that works and stuff that doesn't. We've done our research and teamed up with one of the most innovative Protective Waterproofing materials on the professional market. We can apply this product into Granite, Stone, Coquina, Bricks, Limestone, Marble…anything porous that needs protection. Since we are Certified Applicators of this product line, we can issue you a certificate of a 15 year manufacturer's warranty on your waterproofing.